more deeply interfused
Vargas seems unfazed by her job, even though it involves being subjected to constant electronic scrutiny. Software tracks her productivity and speed, and every so often a red box pops up on her screen to test whether she is paying attention. She is expected to click on it within 1.75 seconds. In the break room, a computer screen lets employees know just how many minutes have elapsed since they left their workstations.

"Sci-Tech Today"
Why not put a hotplate under Vargas and slice a few portions of her ass every time she falls behind on a Big Mac order? Vargas McNuggets.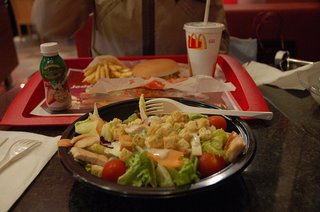 But see
its blogged context
. He's right, by the way. We haven't begun to figure out how to track the dense web of what is happening, let alone the interconnectedness of it, let alone the ramifications of the interconnectedness and filiated repercussions ad saecula saeculorum. In a true sense we don't know what is going on, nor how to report it, nor how to interpret what we are failing to report. Multimedia news organizations are merely offering bunkum in sound and pixels. They have not learned to track a single thing.